Automaton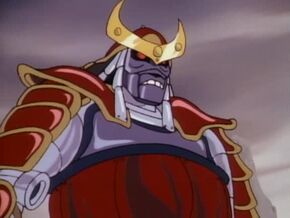 The Automaton is a life-sized robotic samurai created by the Lunataks. A result of one of Luna's diabolical schemes to destroy the ThunderCats, the Automaton is a feat of engineering and a fierce fighter. And once it is armed with the Thunder-Cutter it is almost invincible. Being a machine, the Automaton is neither good nor evil, but simply a machine following its programming. For this reason, it can wield the Thunder-Cutter.
After the Lunataks created the Automaton, they tricked Hachiman and stole the Thunder-Cutter from him. They then armed the Automaton with the blade and sent it to attack Lion-O. Even with the Sword of Omens, Lion-O had a hard time keeping the robot at bay. Eventually Hachiman jumped in and as soon as he grabbed the blade of the Thunder-Cutter, the sword realized that the Automaton's intentions were evil and shattered the robot to pieces.
Community content is available under
CC-BY-SA
unless otherwise noted.