Bandai Slithe 4" Deluxe Figure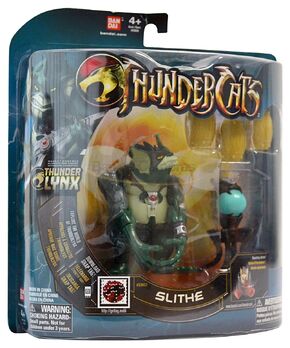 Slithe was one of the first figures in the second wave of the 4 Inch Deluxe figures produced by Bandai Toys as part of their toyline based on the ThunderCats (2011) cartoon series. The figure was based on the cartoon version of Slithe (2011).
Just like other figures in the sub-line, the Slithe figure stood 4 inches tall and was fitted with the "ThunderLynx" action feature as well as having many points of articulation. The figure also came together with weapons and accessories.
Also included with the figure was an instruction sheet which described, with illustrations, how to fit each of the accessory onto the figure as well as how to use the figure's "ThunderLynx" system to interact with other toys in the line.
1. ThunderLynx System: This figure, like many of the figures in the Bandai 2011 ThunderCats line, had the unique "ThunderLynx" system. The figure was embedded with a special magnet that interacted with and activated unique action features in other vehicles and playsets such as the ThunderRacer, Lizard Cannon, ThunderTank and Tower of Omens.
2. Poseable limbs, head and torso: The figure had 14 points of articulation in various parts of its body. This allowed the figure to be posed in a variety of action poses.
1. Jaga in Lantern: Made of black plastic with turquoise orb, the Lantern was similar in design to its appearance in the cartoon. When placed onto Slithe's back, the Lantern would activate the ThunderLynx feature and cause Slithe's arms to come crushing down.
2. Barrel: Made of yellow plastic, the Barrel was split into three pieces. The three pieces were put together to form the complete Barrel and then it would be placed in front of Slithe. Then when the figure's ThunderLynx feature was activated, his arms would come swooping down and break the Barrel into three pieces.
Community content is available under
CC-BY-SA
unless otherwise noted.