Bandai ThunderRacer with Lion-O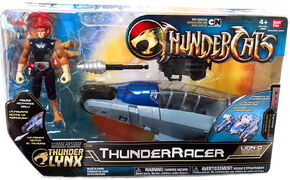 ThunderRacer was one of the first vehicles in the first wave of 4 inch vehicles produced by Bandai Toys as part of their toyline based on the ThunderCats (2011) cartoon series. The vehicle was based on the cartoon version of ThunderRacer (2011).
Just like other toys in the sub-line, the ThunderRacer was fitted with the "ThunderLynx" action feature which could be activated by attaching the included 4 Inch figure to the vehicle.
Also included with the vehicle was an instruction sheet which described, with illustrations, how to fit each of the figure onto the vehicle as well as how to use the vehicle's "ThunderLynx" system to interact with other toys in the line.
The vehicle could also be used with the other 4" figures in the sub-line. The ThunderRacer could also be fitted with the ThunderTank.
1. ThunderLynx System: This vehicle, like many of the figures and vehicles in the Bandai 2011 ThunderCats line, had the unique "ThunderLynx" system. The vehicle was embedded with a special magnet that could be activated by interacting with the figures and other vehicles. The ThunderLynx feature could be activated by placing the figure inside the vehicle.
1. Lion-O Figure: The vehicle came with an exclusive, semi-articulated, 4″ scaled figure of Lion-O. This figure had an embedded magnet and thus could be used to activate the vehicle's "ThunderLynx" System.
2. Drill Shooter: Made of black plastic, the Drill Shooter could hold and fire the Drill bit and could be attached to the side of the vehicle.
3. Drill Bit: Made of silver plastic, the Drill Bit could be fitted inside the Drill Shooter and fired.
Community content is available under
CC-BY-SA
unless otherwise noted.