Berbil Fruit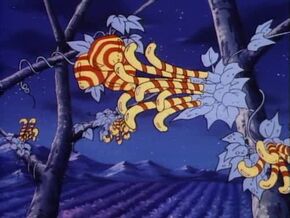 Berbil Fruits are a special type of fruits that are grown by the Berbils. They are the main source of food for the Berbils who grow them in their Fruit Fields in the Berbil Village. The ripening of the fruits is aided by the singing of the enchanted Arietta Bird. The fruits themselves are very colorful as well as tasty. There are four main types of Berbil Fruits:
Meat Fruit
Bread Fruit
Veggie Fruit
Candy Fruit
Of all the Berbil Fruits, Candy Fruits are the most loved ones because of their sweet taste. They are shaped like striped Candy Canes. The ThunderKittens and Snarf are especially addicted to them.
When the ThunderCats first crash landed on Third Earth, their only source of sustenance was the Space Rations that they brought with them from Thundera in their Flagship. However, once the ThunderCats befriended the Berbils, they had access to an endless supply of Berbil Fruit.
The evil Giantors who live on the mountains are particularly fond of the tasty Berbil Fruits. In order to obtain them, they force the Trollogs to raid the Berbil's Fruit Field and steal the fruits. The Trollogs themselves don't like to do this but are helpless as the Giantors have control over the Trollberry Bushes, the leaves of which are the Trollog's only food. Eventually Lion-O deterred the Trollogs from attacking the Berbils Fields and defeated the Giantors as well.
Appearances

[

]