Boatman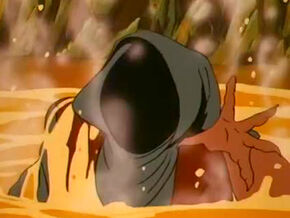 The Boatman is a mysterious figure that dwells deep within the Black Pyramid. A shadowy, hooded figure whose face is never seen, the Boatman has magical powers. He holds an oar and sits in a small wooden boat on the River of Doom.
Lion-O encounters the Boatman while making his way towards Mumm-Ra's pyramid as part of his Final Anointment Trial. Asking to be ferried to Mumm-Ra, Lion-O even offers to pay the Boatman whatever price he may quote. Instead the Boatman paralyzes Lion-O with his touch, draining the ThunderCat's strength.
Summoning whatever little strength that was left in him, Lion-O tips the boat that they are in, causing both of them to fall into the water. Upon contact with the water, the Boatman screams in agony, eventually disappearing underwater. Lion-O then takes the boat and steers it himself.
Community content is available under
CC-BY-SA
unless otherwise noted.