Bob McFadden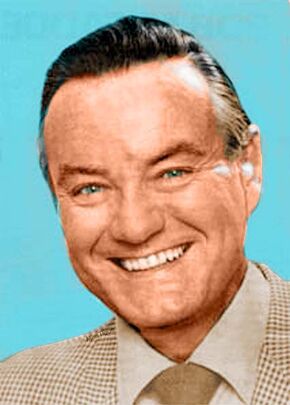 Details
Role
Voice Actor
Country
U.S.A.
Born
January 19, 1923
Died
January 7, 2000
Spouse
Jeanette
Other Works
ThunderCats, SilverHawks, The Life and Adventures of Santa Claus, The Coneheads, Popeye Meets the Man Who Hated Laughter, Cool McCool, Fearless Fly, Milton the Monster, The Wind in the Willows
Page
List of all Cast & Crew
Robert "Bob" McFadden was an American singer, impressionist, and voice actor known for his prolific work in the cartoon industry. Born in East Liverpool, Ohio in 1923, Bob got his first break singing and doing impersonations in a weekly talent show while stationed in Puerto Rico with the Navy during World War II. After leaving the Navy, he worked in a Pittsburgh steel mill, and got into show business as an opening act at hotels and nightclubs for the McGuire Sisters, Harry Belafonte and others. He and his family moved to Queens in the mid-1960's and Bob became a voice-over talent in advertising and cartoons. He provided his voice for a number of advertisements such as products for Ban deodorant, Campbell's soup, Ford, Frankenberry cereal, Geritol, Mountain Dew and Pepto-Bismol. Among his other works, he did ethnic characters for comedy albums including "The Yiddish Are Coming!". He was a stable voice for Terrytoons and was best known as Cool McCool's "Pop the Cop" for King Features Syndicate in 1966. He was also Milton the Monster.
Bob joined the voice cast of ThunderCats in the early 80s when Rankin/Bass hired him. Bob provided the voices for more characters on the show than any other voice artist. His vocal skills were such incredible that he could create almost endless different voices for many different characters. Among the characters he voiced were Snarf and Slithe. Bob would also go on to voice characters on the Rankin/Bass show SilverHawks.
Bob continued to work until the late 80s when he was forced to retire due to ill health. He died on January 7, 2000 at Delray Beach, Florida, at the age of 76 of Amyotrophic Lateral Sclerosis (ALS) or Lou Gherig's Disease.
He did the voices of over 40 different characters on ThunderCats.
He met his wife in Boston in 1950, when the two were working together. While he sang onstage, she and her twin sister performed synchronized swimming exercises in a pool below.
Once he was paid $12,000 to make swishing sounds to imitate a jet airplane.
His most memorable commercial was the voice of a parrot for Wisk. He said "Ring around the collar" and "Nice shirt". This commercial would be played over a 25 year timespan.
Community content is available under
CC-BY-SA
unless otherwise noted.