Brunout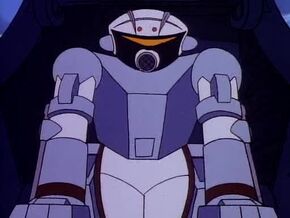 Burnout is a sentient criminal robot who is wanted by the Interplanetary Control Force for various criminal activities. He was apprehended by Mandora and imprisoned in a temporary holding cell on Third Earth , awaiting transportation to the Grey Penal Planet. Unfortunately, Burnout was accidentally released by Lion-O but the young Lord of the ThunderCats, with help from Mandora, was able to recapture the metal beast.
Burnout is a vicious android that attacks anything or anyone at his own discretion, almost like an aggravated bull. He cares for nothing or nobody and takes great pleasure in running over any helpless victim that he encounters. Once he has gained speed, Burnout is almost impossible to stop. However, Lion-O cleverly uses the robot's momentum against him and temporarily blinds Burnout by using Mandora's Boomerang , causing the hulking beast to crash into a lake.
Burnout was one of the minor villains in the ThunderCats series and only appeared in one episode.
010. Mandora - The Evil Chaser
Community content is available under
CC-BY-SA
unless otherwise noted.