Claudus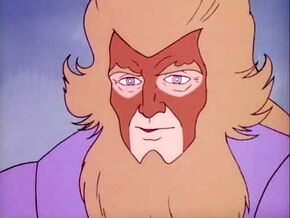 For the article about the 2011 version of this character, see Claudus (2011).
Claudus is Lion-O's father and the original Lord of the ThunderCats. He used to wield the Sword of Omens and he and Jaga were the ones who ruled Thundera and protected it from any enemy. He and Jaga were great friends and after Claudus lost his eyesight in a battle with the Mutants, Jaga took on the onus of maintaining peace and order on Thundera as well as command the Sword of Omens.
Lion-O first encounters Claudus when the young lord is accidentally sent back in time to the day before Thundera's destruction. There Claudus gives Lion-O the plans of the Plun-Darrian Warbot. Claudus then remains behind to boost the guidance system of the Thunderain Royal Flagship which carries Jaga and the ThunderCats safely to Third Earth.
Assuming that his father died when Thundera exploded, Lion-O learns through nightmares that his father is alive and imprisoned by the Shadowmaster in the Shadow Realm. Lion-O then helps his father and the two succeed in defeating the Shadowmaster and freeing Claudus who goes on to join Jaga in the Astral Plane.
The old Claudus has a yellow mane and beard. He also has a darker skin tone. The younger Claudus is much similar to Lion-O in appearance and sports a red mane.
While he was the Lord of the ThunderCats on Thundera, Claudus used to wield the legendary Sword of Omens.
021. Return to Thundera
125. The Shadowmaster
| | |
| --- | --- |
| | |
| Old Claudus | Young Claudus |
Community content is available under
CC-BY-SA
unless otherwise noted.