Dirge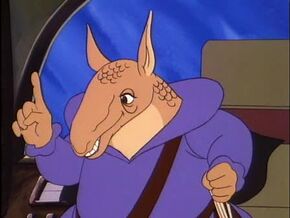 Dirge is the sidekick of the intergalactic fighter, the Demolisher . Having the appearance of an anthropomorphic armadillo, Dirge acts as both a cheerleader and pilot for the Demolisher. He is the only companion that the Demolisher has and he sticks with his master despite being constantly mistreated by him. 
For most of the time, Dirge pilots the Demolisher's Spaceship as he searches for a formidable opponent for his master to do battle with. Once such an opponent is found, Dirge takes on the role of a cheerleader and loudly bangs his drums to support the Demolisher. When the two make their way to Third Earth and the Demolisher engages in battle with Lion-O , Dirge ends up finding an opponent for himself in the form of Snarf .
Dirge is one of the minor villains  in the ThunderCats cartoon series and only appeared in one episode.
038. The Demolisher
Community content is available under
CC-BY-SA
unless otherwise noted.