Earle Hyman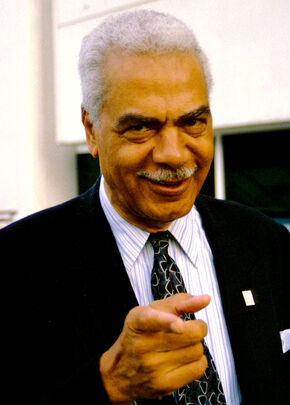 Details
Role
Voice Actor
Country
U.S.A.
Born
October 11, 1926
Died
17 November 2017, The Actors Fund Home, Englewood, New Jersey, United States. (Aged 91)
Other Works
ThunderCats, The Cosby Show, Macbeth, Julius Caeser, The Life and Adventures of Santa Claus
Page
List of all Cast & Crew
Earle Hyman (George Earle Hyman) is an American stage, television, film and voice actor. He was born in Rocky Mount, North Carolina to Zachariah Hyman and Maria Lilly Plummer. His family later relocated to Brooklyn, New York where Earle spent most of his childhood. He made his Broadway stage debut as a teenager in 1943 and continued to appear in a number of stage productions including "Anna Lucasta", "Othello", "The Merchant of Venice", and "A Raisin in the Sun". He also did a number of stage shows in Norway where he has a second home. In addition to his stage work, Hyman starred in various television and films including adaptions of "Macbeth" (1968), "Julius Caesar" (1979), and "Coriolanus" (1979). One of his most well known roles on television was that of Russell Huxtable in "The Cosby Show" where he played the father of lead character Cliff Huxtable played by Bill Cosby.
Hyman was hired by Rankin/Bass to provide his voice for their animated show the ThunderCats. The producers felt that his deep baritone voice suited the character of Panthro perfectly. He also voiced a number of other characters on the show.
He speaks fluent Norwegian, a language he learned after he became a fan of Henrik Ibsen.
He has won a number of awards including a Theatre World Award in 1965, a CableACE Award in 1983, and the St Olav's medal in 1988 for his work in Norwegian theater. In 1986 he was nominated for an Emmy Award for his role as Russell Huxtable on "The Cosby Show".
Even though he plays the role of Bill Cosby's father on The Cosby Show, he is only 11 years older than him.
He is the third cousin of singer Phyllis Hyman.
He has performed the role of "Othello" more than anyone on record, with hundreds of performances in four countries over a span of twenty‐five years.
"The first play I ever saw was a present from my parents on my 13th birthday — Nazimova in 'Ghosts' at Brighton Beach on the subway circuit — and I just freaked out."
Community content is available under
CC-BY-SA
unless otherwise noted.