Hard Hero Bengali Statue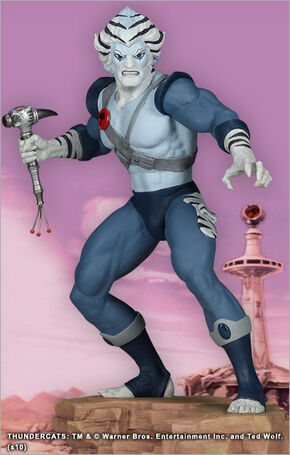 Official blurbEdit
"Sculpted by Paul Bennet, the BBTS Exclusive: ThunderCats Bengali 10" Cold Cast Porcelain Statue: LE 350 is packaged in a full-color collector's box. Depicted in a combat-ready stance, Bengali is equipped with the Hammer of Thundera. Long after the ThunderCats' arrival on Third Earth, Lion-O learns of the existence of three new surviving Thundereans who have also settled on Third Earth. Bengali and fellow Thundereans Pumyra and Lynx-O have long since taken secluded residence on an anonymous island in the Northern Sea. Mumm-Ra dispatches Hammerhand and the Berserkers to capture the new Thundereans. Bengali, Pumyra and Lynx-O are transported to Fire Rock Mountain and imprisoned in strength-nullifying Thundranium cells. Finally rescued by Lion-O, the new Thundereans are admitted into the Cat's Lair and formally given the rank of ThunderCats. Later, when Mumm-Ra attempts to mitigate the threat of the three new ThunderCats by grudgingly arranging the release of the Lunataks, Bengali, Pumyra and Lynx-O are assigned to the Tower of Omens, devised as a counterpoint to the Lunataks' grisly Sky Tomb. A cunning and resourceful warrior, Bengali is also characterized as having been a renowned blacksmith on Thundera, and when the monstrous Lunatak Tug-Mug shatters the Sword of Omens, Bengali uses the Hammer of Thundera to repair the sacred blade".
Product descriptionEdit
This is the fourth ThunderCats statue made by Hard Hero with the first three being Lion-O, Cheetara and Mumm-Ra. It was based on the 1980s ThunderCats cartoon version of Bengali. The first of the new ThunderCats to be immortalized in cold cast porcelain, Bengali stands an impressive 10 inches tall with the Hammer of Thundera in his hand. This statue was released as a retail exclusive and could only be ordered from "Big Bad Toy Store".
Community content is available under
CC-BY-SA
unless otherwise noted.