Hard Hero Cheetara Statue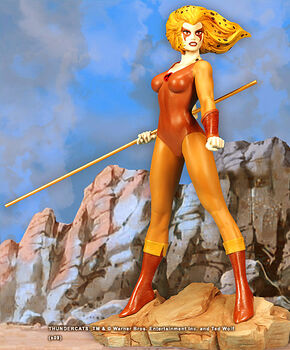 Official blurbEdit
"The ThunderCats. One of most popular afternoon animated programs of the 1980's now comes to life with the beautiful Cheetara, the second in Hard Hero's line-up of ThunderCats statues. One of the few survivors of the doomed planet Thundera, Cheetara is a female Cheetah warrior, able to sense the presence of evil with her precognitive sixth sense. Dangerous in a fight, she wields her extensible Bo Staff. Cheetara stands nearly 11" tall and 7" wide, part of the new 1/7 scale series. Display her alongside the previously released Lion-O, the Lord of the ThunderCats".
Product descriptionEdit
This is the second ThunderCats statue made by Hard Hero with the first one being Lion-O. It was based on the 1980s ThunderCats cartoon version of Cheetara. Cheetara's stance is taken from the opening sequence of the ThunderCats cartoon showing the femme fatale standing atop a rocky outcrop with her Bo Staff in hand, ready to jump into action.
Made from cold cast porcelain, the statue stands almost a foot tall. Careful attention has been paid to every fine detail and capturing Cheetara's svelte form.
When Hard Hero first released pictures of the Cheetara statue before its official debut, many fans were unhappy with her facial expressions. Heeding the fans complains, Hard Hero sculptors changed her facial appearance to more closely resemble the cartoon version of Cheetara.
Community content is available under
CC-BY-SA
unless otherwise noted.