Hard Hero Mumm-Ra and Ma-Mutt Statue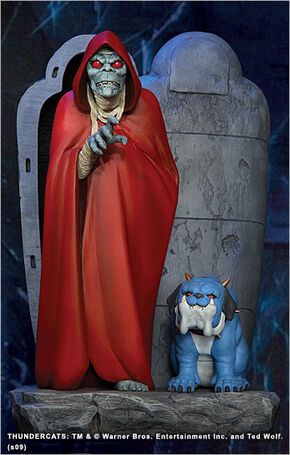 Official blurbEdit
"Measuring approximately 10" tall, the ThunderCats Mumm-Ra Cold Cast Porcelain Statue is sculpted by Paul Bennett, and is presented in a color collector's box. Depicted in his frail mummy-like form in the foreground of his restorative sarcophagus, the demon-priest Mumm-Ra is accompanied by the spike-collared demon-pooch Ma-Mutt. Representing the majority of the evil caseload on Third Earth, Mumm-Ra resides in his Black Pyramid among the grim statue-visaged Ancient Spirits of Evil. Following the ThunderCats' arrival on Third Earth, Mumm-Ra, roused from his torpid slumber, presses the ThunderCats' longtime adversaries, the Mutants of Plun-Darr, into service. Mumm-Ra is imbued with vast sorcerous power, and is capable of shapeshifting into virtually any guise. Though his default form is that of the wizened, vulnerable mummy, Mumm-Ra's servitude to the Ancient Spirits of Evil provides him with the alternate form of Mumm-Ra the Ever-Living, a monstrous creature that is capable of battling the likes of Lion-O on equal terms. However, this form can be easily neutralized by showing Mumm-Ra a glimpse of his ghoulish reflection".
Product descriptionEdit
This is the third ThunderCats statue made by Hard Hero with the first two being Lion-O and Cheetara. It was based on the 1980s ThunderCats cartoon version of Mumm-Ra. The statue depicts Mumm-Ra in his mummy form covered in bandages and exiting his sarcophagus with a menacing spell casting hand reaching out in front of him. As a bonus, the statue came with a removable Ma-Mutt companion who was also based on his 1980s ThunderCats counterpart
Made from cold cast porcelain, the statue stands just short of a foot tall. As with all other Hard Hero statues, the fine details are captured perfectly and elegantly. From the withered bandages to the wrinkles in Mumm-Ra's decaying face, every little aspect of the character is present in the statue. The statue also comes complete with its own sarcophagus to complete the display.
Community content is available under
CC-BY-SA
unless otherwise noted.