Howard Post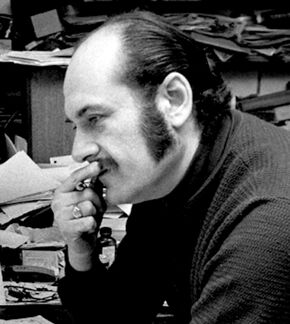 Details
Role
writer
Country
U.S.A.
Born
November 2, 1926
Died
May 21, 2010
Spouse
Pamela Rutt
Children
Two daughters
Other Works
ThunderCats, Battle of the Planets, James Bond Jr., Adventures of Sonic the Hedgehog, Beetle Bailey Krazy Kat
Page
List of all Cast & Crew
Howard Post a.k.a Howie Post was an American animator, cartoonist, comic book artist and writer. He was born in New York City and was always interested in drawing. His father, who was in the fashion business, always encouraged him and gave him advice on drawing. As a teenager, he attended the Hastings School of animation.
When he was 18, his father became seriously ill with tuberculosis. As a result, the responsibility of earning money to support himself and his family fell upon Post. He started working as an in-betweener at "Paramount Pictures"' animation studio, "Famous Studios". In order to supplement the small income, he also ventured into working in the comic book industry. He drew covers and stories for a number of comic book companies such as "National Allied Publications" (which would go on to become "DC Comics") and "Atlas Comics" (which would evolve into "Marvel Comics").
Around 1961, Post was doing artwork for "Harvey Comics"' publications such as "Casper the Friendly Ghost". By the mid 1960s, Post had become the head of Paramount Cartoon Studios, succeeding Seymour Kneitel. In the late 1960s, Post created and drew the comic book "Anthro" for DC Comics which sadly only ran for six issues.
After the cancellation of "Anthro", Post created a comic strip known as "The Dropouts" about Alf and Sandy, the two main characters who were castaways on an island. This strip was syndicated by "United Features Syndicate from 1968 to 1981.
While working as a comic artist, Post also wrote stories for a number of animated shows such as "Krazy Kat", "Beetle Bailey", and "Battle of the Planets". In the mid 1980s he was hired to write for the Rankin/Bass animated show ThunderCats.
018. Spitting Image

Community content is available under
CC-BY-SA
unless otherwise noted.