Icon Heroes Lion-O Statue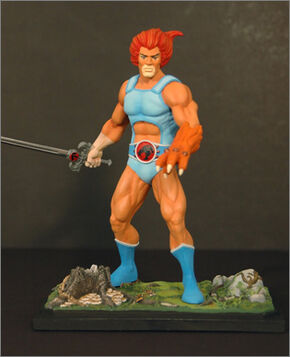 Official blurbEdit
"Icon Heroes presents the Lord of the Thundercats polyresin statue. Highly detailed, Lion-O wields the Sword of Omens with his Claw Glove ready for battle. This statue stands approximately six inches tall. As an added bonus, it includes a fully sculpted forest environment base. Thunder! Thunder! Thundercats! Hoooooooooooooo!"
Product descriptionEdit
Released in July of 2010, Lion-O is the first ThunderCats statue made by Icon Heroes. The polyresin mini statue is based on the 80's ThunderCats cartoon version of Lion-O . He is depicted holding the Sword of Omens and wearing the Claw Shield, standing on a forest environment base, ready to do battle.
VariationEdit
In the same year, an exclusive variant version was released at the San Diego Comic Convention (SDCC). The SDCC exclusive had a sand-themed diorama base, while the regular edition mini-statue had a forest-themed diorama base. In addition, the SDCC exclusive displayed Lion-O holding the Sword of Omens in its short form, while the regular edition had the sword in its full-length version. An exclusive ThunderCats magnet was also given out with each statue sold at the convention.
The SDCC Lion-O Mini Statue
with the sand-themed diorama base
Community content is available under
CC-BY-SA
unless otherwise noted.