Icon Heroes Mumm-Ra Staction Figure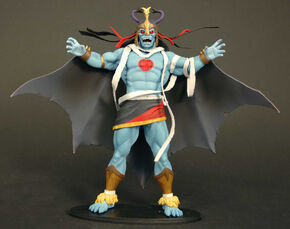 Official blurbEdit
"Ancient spirits of evil, transform this decayed form to ... Mumm-Ra the Ever-Living!" Icon Heroes presents Mumm-Ra in this massive deluxe staction figure standing approximately 9" H x 11" W x 2.5" D including cape and base, packaged in a gatefold window box including a special diorama insert featuring Mumm-Ra's Tomb Fortress!
Product descriptionEdit
This is the fifth ThunderCats statue made by Icon Heroes, and the third PVC figure. It was based on the 80's ThunderCats version of the demon priest Mumm-Ra . Unlike some of the other PVC staction figures made by Icon Heroes, Mumm-Ra did not come with any additional accessories or interchangeable pieces.
Mumm-Ra was available for purchase first at the Comic Con in July, then in August for the regular release. For every Mumm-Ra staction purchased, Comic Con attendees received an exclusive Ma-Mutt staction figure.
Due to the figure's large scale, Mumm-Ra was packaged in a black box with his signature emblem and a gatefold was used to incorporate his tomb fortress as a diorama set piece. Depicted in his ever-living form, the Mumm-Ra figure is sight to behold. With realistically flowing bandages and cape, the figure has its arms held out in a menacing stance, enough to scare even the bravest of heroes.
VariationEdit
In September 2011, a "Retro Colored" version of the Mumm-Ra statcion figure was released at the Power-Con/ThunderCon and then at the New York Comic Con (NYCC) the following month. This variant staction used the same exact sculpt as the regular version Mumm-Ra staction with special paint application that payed homage to the vintage LJN toy version of Mumm-Ra action figure from the 1980s. Some of the differences include a larger emblem on the staction figure's chest, a greenish-gray body color, and a red/black color scheme for the bandages, head dress, and skirt. This variant figure was limited to only 250 pieces worldwide.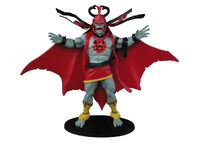 The Retro colored Mumm-Ra staction figure
Community content is available under
CC-BY-SA
unless otherwise noted.