Jurassic World: Dominion Dominates Fandom Wikis - The Loop
Play Sound
Jackalman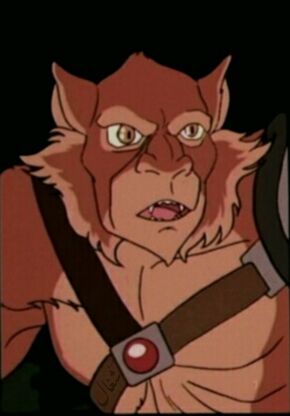 For the article about the 2011 version of this character, see Kaynar (2011).
Jackalman is a member of the Jackalmen and also serves as their leader. Like the rest of his kind, this humanoid jackal hails from the planet Plun-Darr. His body is a dark orange in color and he has tufts of fur covering his shoulders.
Along with Monkian and Vultureman, Jackalman is a member of the Mutants led by Slithe. Cowardly and cautious, Jackalman usually tries to avoid taking part in any direct conflict, and also is the first one to question Slithe's nefarious schemes.
Despite his pusillanimous nature, Jackalman has displayed an unbelievable degree of boldness on a couple of occasions. The first time was when he decided to rebel against Slithe and the other Mutants and for his own gang. Appointing himself as a general, Jackalman picked the Molemaster and the Driller to be a part of his army. He harrased the more timid Third-Earthers like the Wollos by pillaging their village but was stopped short by the ThunderCats.
Later on, Jackalman took on Lion-O alone while Slithe and Monkian were trapped inside a mountain with Tygra and Panthro. Wrestling with the Lord of the ThunderCats, Jackalman was able to snatch the Sword of Omens from him. Intoxicated by the power of holding the Eye of Thundera in his hands, Jackalman created his own variation of Lion-O's chant when he yelled out, "Plun-Darr, Plun-Darr, Plun-Darr, Jackalman Ho!".
Eventually, Jackalman along with the other Mutants were captured by Captain Bragg in his Circus Train and taken to the remote planet of Way Outback where they remain exiled for good.
Strengths

[

]
Jackalman's cunning is his main strength. His crafty nature has allowed him to many times turn difficult situations in his favor and even escape from them.
When he puts his mind to it, Jackalman can be a handful in one-on-one combat, not fearing to even take on Lion-O with his Sword of Omens.
While not a strength per se, Jackalman's slender build did prove to be useful once when he had to crawl through the ventilation shaft inside Cats Lair in order to reach the Sword Chamber.
Weaknesses

[

]
Physically, Jackalman is the weakest of the Mutants.A scrawny physique make him an easy opponent to take down most of the times.
Jackalman is also full of greed and that often ends up being his own undoing.
Weapons & Equipment

[

]
Jackalman has used a variety of weapons in his fight against the ThunderCats, including crude ones like Clubs, Battle Axes, and Maces as well as more advanced weapons such as guns and a rock firing Arm Cannon.
Jackalman usually pilots the SkyCutter but on occasion has driven the NoseDiver as well.
Appearances

[

]
Gallery

[

]