Jaga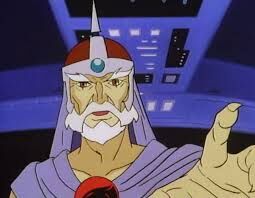 For the article about the 2011 version of this character, see Jaga (2011).
Jaga (a.k.a. Jaga the Wise) was Claudus ' closest adviser and head of the ThunderCat council. He took over as "Lord of the ThunderCats" when Claudus lost his eyesight. Jaga didn't realize he caused the untimely fate of Thundera when he cast the Sword of Plun-Darr into a chasm, but this caused the entire planet to self-destruct. He piloted the Royal Flagship on part of its journey to Third Earth , but perished in the act. He now guides Lion-O as a spiritual adviser, teaching him the use of the Sword of Omens and how to act and rule wisely.
When alive, he wielded the Sword of Omens . He was shown using a regular sword when fighting Grune the Destroyer .
001. Exodus
002. The Unholy Alliance
003. Berbils
005. Trouble with Time
006. Pumm-Ra
011. The Ghost Warrior
013. Lord of the Snows
015. The Time Capsule
017. All That Glitters
021. Return to Thundera
025. Lion-O's Anointment Second Day
026. Safari Joe
031. The Astral Prison
035. The Rock Giant
044. Sword in a Hole
049. Lion-O's Anointment Final Day
060. Mumm-Rana
065. Fond Memories
066. ThunderCats Ho! - Part I
070. ThunderCats Ho! - Part V
071. Mumm-Ra Lives! Part I
079. Mad Bubbler
080. Together We Stand
090. Vultureman's Revenge
091. ThunderCubs - Part I
094. ThunderCubs - Part IV
096. The Totem of Dera
097. The Chain of Loyalty
098. Crystal Canyon
104. Locket of Lies
107. Thunderscope
110. The Last Day
115. Return to Thundera Part V
117. Frogman
120. Malcar
121. Helpless Laughter
123. The Mossland Monster
125. The Shadowmaster
Community content is available under
CC-BY-SA
unless otherwise noted.