League of Third Earth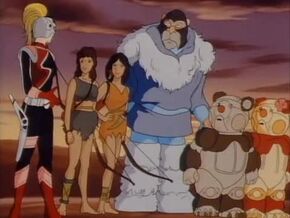 The League of Third Earth is a group of ThunderCats' allies selected by Lion-O. The League is entrusted to safeguard Third Earth in the absence of the ThunderCats.
With the Mutants and Lunataks arrested, and Mumm-Ra banished from Third Earth, the ThunderCats decide that they should return to their home planet of New Thundera. So in order to take their place as guardians of the planet, they appoint the League of Third Earth.
The League consists of seven members; Mandora, Snowman, Snowmeow, Willa, Nayda, Ro-Bear Bill and Ro-Bear Belle. Lion-O also assures them that the ThunderCats will always remain in touch with them through Tygra and Pumyra who have been chosen to remain on Third Earth.
Community content is available under
CC-BY-SA
unless otherwise noted.