Ma-Mutt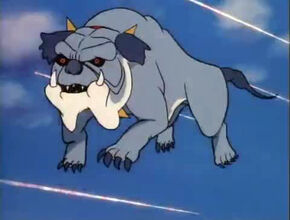 Ma-Mutt is the faithful pet of Mumm-Ra , the ever-living. Resembling a bulldog, Ma-Mutt is the only creature that Mumm-Ra trusts implicitly. This canine fiend, while incapable of speaking, displays an incredible, almost human-like intelligence. He carries out his masters plans without questions and is ferociously loyal to the devil priest. He is even capable of piloting and controlling the teleporting device, Mumm-Raft.
Ma-Mutt has the ability to fly as well as grow in size to gigantic proportions. Mumm-Ra also uses his pet as a way to project his holographic image anywhere that he desires. This enables Mumm-Ra to communicate and instruct his cronies such as the Mutants , the Berserkers and the Lunataks.
Ma-Mutt is also capable of changing into a giant flying bat-like creature known as Ma-Bat. In this form, he still retains the face and body of Ma-Mutt but grows giant bat wings which enable him to fly. In this form, Ma-Mutt is very strong and was capable of defeating the Shadowbat as well as completely destroy Doji-Kage.
On some occasions, Ma-Mutt has shown to behave like any ordinary dog. He gets into mischief and only wants his master's attention. He once even sided with the ThunderCats temporarily and tried to warn them about Mumm-Ra's Babylonian Barbarian Boiler.
When he was connected to Snarfer's Interspecies Speaking System, he said: "My name is Ma-Mutt, adjutant to Mumm-Ra the ever-living. My dog license number is 3426".
Community content is available under
CC-BY-SA
unless otherwise noted.