Mutank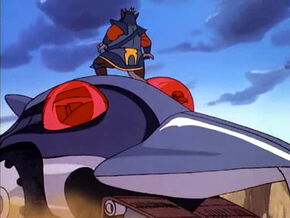 The Mutank is one of the newer Mutant vehicle. It is the Mutants' answer to the ThunderCats' ThunderTank. The Mutank is capable of firing powerful Vortex Shells. It also has a very strong armor that can resist most attacks.
After the RatStar crashed, Ratar-O ordered the Mutants to build the Mutank in order to tow it back to Castle Plun-Darr. The Mutants reluctantly complied. Fortunately for them, it wasn't a lot of hard work as Vultureman was able to use his remote control to activate the transformation of the Mutank. One click of a button and components of the Mutank automatically joined together. The Mutants were then able to tow the wreck of the RatStar back to their castle.
The Mutank was also useful to the Mutants in their fight against the ThunderCats. The Mutank and the ThunderTank locked in fierce battle with the ThunderCats vehicle ending as the winner.
Community content is available under
CC-BY-SA
unless otherwise noted.