Pop Culture Shock Tygra Statue (cancelled)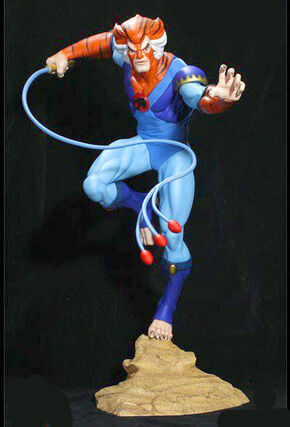 Product descriptionEdit
Unveiled at the 2012 San Diego Comic Convention (SDCC), Tygra was to be the fourth 1/4 scale ThunderCats statue produced by Pop Culture Shock Collectibles. However, due to low pre-orders, the statue was cancelled and never went into production. Like the previous statues of Lion-O, Mumm-Ra and Cheetara, the look of the statue was inspired from the Ed McGuinness artwork from the popular "Reclaiming Thundera" comic book series.
The statue would have been cast in high quality polystone and dressed with real fabric. The statue would have featured a second interchangeable head. Tygra is shown in an action pose, standing on one leg a rock pile. With his Bolo Whip in his right hand and left hand outstretched, the ThunderCat Tygra is ready to do battle with the forces of evil.
Community content is available under
CC-BY-SA
unless otherwise noted.