Rhino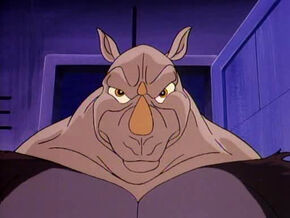 Rhinosauran is one of the criminals who are incarcerated on the Grey Penal Planet. With the head of a rhinoceros and the body of a gorilla, the Rhinosauran is all muscle and no brain. Not able to speak except in grunts and growls, the Rhinosauran nevertheless understands the speech of others. Using his immense strength, the hulking beast can plow through any adversary with ease.
He was released from his cell by Captain Cracker to do his bidding when the cyborg pirate forcefully took control of the Grey Penal Planet. The Rhinosauran is the first inamte that Lion-O encounters when he goes to help Mandora on the prison planet. The creature nearly defeats Lion-O but Quick-Pick arrives in the nick of time to rescue the young lord. Using a "matadorean" bullfighting technique, Quick-Pick successfully locks the Rhinosauran back in his cell.
One of the minor villains in the ThunderCats series , Rhinosauran only appeared in one episode.
Community content is available under
CC-BY-SA
unless otherwise noted.