Ro-Bear Belle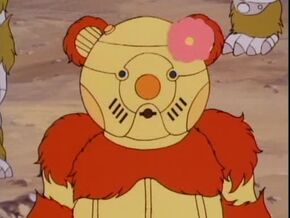 Ro-Bear Belle is a female Berbil and lives with the other Berbils in the Berbil Village on Third Earth . She's gentle, kind and hardworking, and along with her husband Ro-Bear Bill , was one of the first Berbils to befriend the ThunderCats during their early days on Third Earth. She generally tends to domestic duties and being a wonderful host to her guests.
Ro-Bear Belle once became a victim in one of Mumm-Ra 's evil plan. The evil mummy was planning to free the sorceress Ta-She from her Time Warp Prison and one of the keys to release her was a Berbil's tear. To obtain the tear, Mumm-Ra had Ro-Bear Belle kidnapped by a Man-O-War Cloud and taken to Mount Anguish.
Before moving to New Thundera for good, Lion-O appoints Ro-Bear Belle to be one of the member of the League of Third Earth, a group of ThunderCats' allies formed to safeguard Third Earth and its inhabitants in the absence of the ThunderCats.
Original Concept Art

[

]
Gallery

[

]
Appearance

[

]
003. Berbils
012. The Doomgaze
023. The Crystal Queen
071. Mumm-Ra Lives! Part I
084. Day of the Eclipse
098. Crystal Canyon
111. Return to Thundera Part I