Rock Giant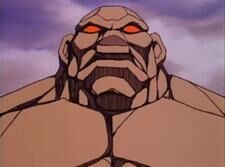 The Rock Giant is an enormous monster made entirely of stone. It is brought to life by an unexpected volcanic eruption and begins to wreak havoc on Third Earth. Wanting to use this opportunity to his advantage, Mumm-Ra uses the Rock Giant to destroy the ThunderCats.
Seemingly indestructible, the Rock Giant appears to be impervious to every weapon in the ThunderCats' arsenal. Its massive size, strength and ability to breathe fire make it one of the most dangerous enemies that the ThunderCats have ever faced. Eventually, Lion-O uses the simple knowledge used by the ancients to destroy the stone behemoth.
43. The Rock Giant
The Rock Giant's design is identical to that of a rock like creature that Ratar-O creates using his Molecular Mutator in the episode "Feliner - Part I". The only difference being the color of the two giants.
Community content is available under
CC-BY-SA
unless otherwise noted.