Shemlock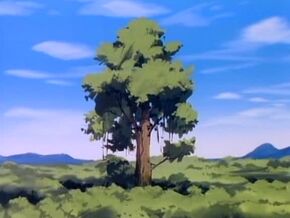 Shemlock is the tallest and oldest tree in the entire Treetop Kingdom of Third Earth. This mighty tree towers above all the other trees in the forest. The tree is a very special one as on it is mounted the Mask of Gorgon. The Mask was placed in the care of the Warrior Maidens who embedded it in the trunk of Shemlock. They made sure to place it facing Westwards, away from the Hills of Elfshima.
When Mumm-Ra wanted to acquire the Mask of Gorgon, he sent Chilla and Tug-Mug to retrieve it. Chilla froze Shemlock with her icy breath, denuding the tree of its leaves and revealing the Mask.
078. The Mask of Gorgon
Community content is available under
CC-BY-SA
unless otherwise noted.