Snarfer's Automaton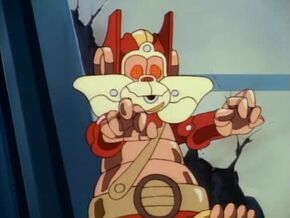 Snarfer's Automaton is a robotic version of Snarfer that was created by Snarfer himself. After witnessing the Lunataks' samurai Automaton in action, Snarfer decides to create an Automaton of himself in order to help him with his chores. The Automaton even says Snarfer's catchphrase: "Snarfer, Snarfer!". Unfortunately Snarfer's Automaton breaks on its own after taking just a few steps.
AppearancesEdit
Community content is available under
CC-BY-SA
unless otherwise noted.