Jurassic World: Dominion Dominates Fandom Wikis - The Loop
Play Sound
Super7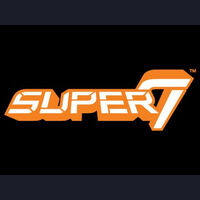 Details
Country
U.S.A
Years Active
2001 - present
Industry
Toys and Collectibles
Headquarters
San Francisco, California
Founder
Brian Flynn
Licensed Properties
Alien, G.I. Joe, Masters of the Universe, Hellboy Peanuts Robocop, Street Fighter, Teenage Mutant Ninja Turtles, Transformers, ThunderCats.
Super7 is an American pop-culture design house and producer of lifestyle-oriented collectibles, toys and apparel. Founded by Brian Flynn, its headquarters is in San Francisco Califronia.
In 2001, Super7 started as a magazine about vintage Japanese toys. Included in each magazine were mail-in coupons for exclusive recolored toys. The success of the magazine as well as the recolored toys allowed Super7 to open their first store in San Francisco in 2004. Apart from toys the show also stocked t-shirts, posters and books. Over time Super7 began to develop more and more vinyl toys and acquiring licenses to popular franchises.
ThunderCats Ultimates

[

]
In August of 2019, Super7 announced that they would be continuing the ThunderCats Classics line of 7 inch figures that Mattel Toys had discontinued. This line was re-titled "ThunderCats Ultimates" and they started off by re-releasing five of the original figures with upgraded accessories, additional heads and slight modifications. The first wave included Lion-O, Panthro, Jackalman and Mumm-Ra. The second wave included Pumyra with both waves being manufactured in the Mattel Toys factory. After production of Wave 1 and 2 completed the proportion of tooling that was owned by Super7 was transfered to their own factory storage. The figures were packaged in what Super7 called "Display-Matic" boxes.
Wave 1
[
]
Super7 released a Wave 1 Booster Pack to correct production errors with the color of Panthro's shorts, Jackalman's neck fur and guns with a bonus third Panthro head with activated yellow eyes. Version 2 of these figures included the corrected color parts but not the bonus head. Bulk deliveries of Version 2 stock direct from Super7 were found to have multiple layers of tape on the top of the inner box suggesting Version 1 stock was reworked by Super7 to correct production errors.
An exclusive Glow In The Dark version of Mumm-Ra (Mummy) was produced for BigBadToyStore.
Wave 2
[
]
Tygra

Grune

Mumm-Ra (Ever Living)

including Ma-Mutt
There was no Wave 2 Booster Pack although it was noted by fans that due to a production error Tygra was missing his elbow pad which remains unresolved by Super7.
Wave 3
[
]
Wave 3 onwards was produced in the Super7 factory.
Jaga

Slithe

Captain Cracker

Cheetara

was released later as the figure required substantial rework and included a bonus third head with activated yellow eyes.
Wave 4
[
]
Lynx-O

Snowman of Hook Mountain

Pumm-Ra

Monkian
Wave 5 (Pre-Order Stage)
[
]
Lion-O (Mirror)

Vultureman

Bengali

Hammerhand
Wave 5.5 (Pre-Order Stage)
[
]
Mandora

Electro Charger Vehicle
Thundertank (Pre-Order Stage)
[
]
Wave 6 (Announced Prematurely)
[
]
Lion-O (Toy Variant)

Mumm-Ra (Ever Living, Toy Variant)

Cheetara (Toy Variant)

Monkian (Toy Variant)
ThunderCats ReAction Figures

[

]
In July of 2020, Super7 released its first wave of ThunderCats ReAction figures. Like other toys from the ReAction line, the ThunderCats figures were 3.75 inches tall with a simple sculpt, resembling the action figures of the 70s and early 80s. Each figure had 5 points of articulation and came with their respective weapons and accessories. The figures were packaged on cardback featuring LJN-style artwork and fonts. The art was done by illustrator and animator Az Adamson and was reused on Ultimates packaging from Wave 2 onwards.
Wave 1
[
]
Toy Variants
[
]
Wave 2
[
]
An exclusive good ThunderCats version of Grune The Destroyer was produced for San Diego Comic-Con 2021.
Toy Variants
[
]