ThunderCats: Enemy's Pride 1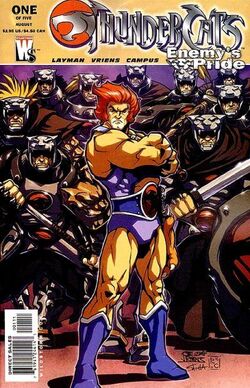 ThunderCats: Enemy's Pride # 1 was the first issue in a five-part limited series by Wildstorm Comics.
Lie of the Beholder:
When Lion-O begins acting strangely and making reckless decisions, only the ThunderKittens take notice. Unfortunately, no one listens to them — and the ThunderCats are about to discover that their greatest menace may come from within.
CharactersEdit
Due to inconsistencies and contradictions, the ThunderCats comics by WildStorm should not be considered canon to the original 1980s animated television series. Readers should instead consider them as separate or alternative canon.
Preview Comic PanelsEdit