ThunderCats: Enemy's Pride 4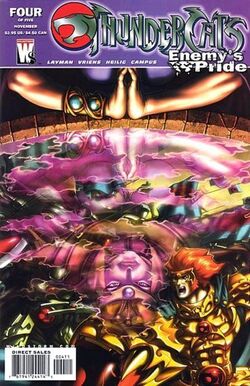 ThunderCats: Enemy's Pride # 4 was the fourth issue in a five-part limited series by Wildstorm Comics.
The King and I:
The mystery villain behind Lion-O's strange and dangerous behavior has been revealed and, with it, the fate of Thundera! Now the least likely Thundercat is faced with the greatest challenge. A giant responsibility is in the paws of the smallest. Snarf to the rescue?
CharactersEdit
Due to inconsistencies and contradictions, the ThunderCats comics by WildStorm should not be considered canon to the original 1980s animated television series. Readers should instead consider them as separate or alternative canon.
Preview Comic PanelsEdit
Community content is available under
CC-BY-SA
unless otherwise noted.