ThunderCats: Enemy's Pride 5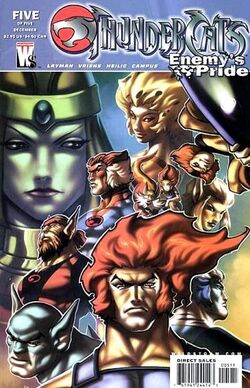 ThunderCats: Enemy's Pride # 5 was the final issue in a five-part limited series by Wildstorm Comics.
Animas Acme:
The thrilling miniseries concludes with the battle to end all battles! What action will WilyKat take against his old friends? And who holds the key to stopping the ThunderGuard and its power-mad leader? Could it really be...Snarf to the rescue?
CharactersEdit
Due to inconsistencies and contradictions, the ThunderCats comics by WildStorm should not be considered canon to the original 1980s animated television series. Readers should instead consider them as separate or alternative canon.
Preview Comic PanelsEdit
Community content is available under
CC-BY-SA
unless otherwise noted.