ThunderCats: Hammerhand's Revenge 3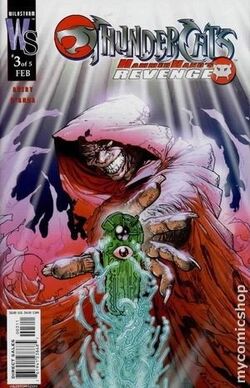 ThunderCats: Hammerhands Revenge 3 was the third issue in the five-part limited series by Wildstorm Comics.
Publishers SummaryEdit
Lion's Fate:
The swashbuckling adventure continues as the ThunderCats make it through the Eternal Forest, only to be ambushed by the Berserkers. It's an all-out battle that causes the Sword of Omens to summon Lion-O. Unfortunately, he's held prisoner by the Griffins!
CharactersEdit
Variant Covers & PanelsEdit
Due to inconsistencies and contradictions, the ThunderCats comics by WildStorm should not be considered canon to the original 1980s animated television series. Readers should instead consider them as separate or alternative canon.
Related ComicsEdit
The following comics are also apart of the 'ThunderCats: Hammerhand's Revenge' limited series.
Community content is available under
CC-BY-SA
unless otherwise noted.