ThunderCats: Hammerhand's Revenge 5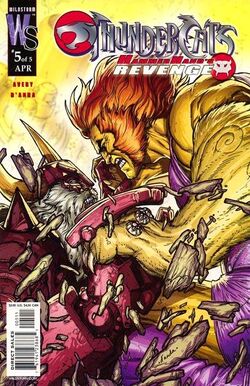 ThunderCats: Hammerhands Revenge 5 was the final issue in the five-part limited series by Wildstorm Comics.
Publishers SummaryEdit
The thrilling miniseries reaches a mind-blowing conclusion, as Lion-O and the ThunderCats attack Hammerhand's ship with the Griffin army! But the battle won't be easy for these mighty heroes thanks to the ship's mighty armaments. Will the ThunderCats arrive in time to save Hachiman? Who will survive? Don't miss the final chapter
CharactersEdit
Cheetara
Cruncher
Hachiman
Hammerhand
Lion-O
Panthro
Ram-Bam
Snarf
Top-Spinner
Tygra
Variant Covers & Preview PanelsEdit
Due to inconsistencies and contradictions, the ThunderCats comics by WildStorm should not be considered canon to the original 1980s animated television series. Readers should instead consider them as separate or alternative canon.
Related ComicsEdit
The following comics are also apart of the 'ThunderCats: Hammerhand's Revenge' limited series.