ThunderCats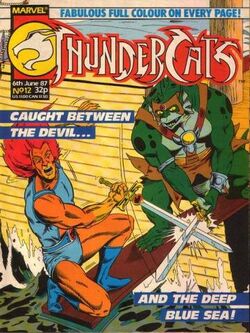 ThunderCats # 12 was an on-going comic book by Marvel Comics UK, which was based upon the original cartoon series of the ThunderCats.
Invasion, Part 2 of 2:
Written by Ian Rimmer
Art by Martin Griffiths, Baskerville, Glib & Stuart Place
As this issue opens to tell the second part of this story, Snarf works his way aboard the ship carrying Lion-O's mysterious secret weapon. Meanwhile, it's revealed Slithe never was really a prisoner and it was all a ruse to draw and then capture all the ThunderCats. The Berzerkers wanted the ThunderCats, as once captured, it would show all the other Berzerkers there's nothing to fear on Third Earth and an invasion would ensue. For the Mutants, they received the Sword of Omens for their part in helping capture the 'Cats.
Turns out, the "secret weapon" Snarf carried in his pack was the real Sword of Omens. Lion-O had brought a fake, and that was now what Slithe possessed. With the real sword in hand, Lion-O easily frees his friends. A battle ensues between the freed ThunderCats and Berzerkers and Mutants. Everything goes well until Hammerhand gets his mitts on Snarf. Hammerhand just wants free passage away from there and they can have Snarf back. Lion-O has an instinct they can trust the bargain, and leave the ship. Soon, Snarf is released in a row boat to come back to them, and the Berzerkers return to their world. Lion-O, hoping they'll tell all how the ThunderCats successfully defended against the attack and thereby thwarting any chance of a large-scale Berzerker invasion!
Free GiftEdit
A ThunderCats mini-poster, which was originally the cover artwork for ThunderCats (Marvel UK) - Issue 10.
Community content is available under
CC-BY-SA
unless otherwise noted.