ThunderCats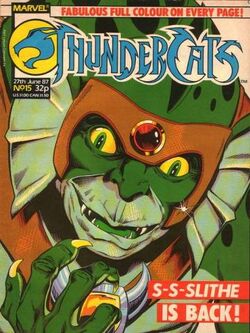 ThunderCats # 15 was an on-going comic book by Marvel Comics UK, which was based upon the original cartoon series of the ThunderCats.
To The Voctor, The Spoils, part 1 of 2:
Written by Gerry Conway
Art by Jose Delbo, Al Gordon, Janice Chiang & Petra Scotese
After a day of hard work on an aqueduct, the ThunderCats celebrate by having some friendly competition. Unfortunately, the twins' victory quickly turns into a rivalry with the adult ThunderCats taking sides. While all this in-fighting is going on, the Mutants attack the Lair and destroy the newly built aqueduct. The mutants also capture the Lair and take the ThunderKittens as their prisoners. Eventually things are set right and the ThunderCats apologise to each other, but not before Lion-O questions his suitability as Lord of the ThunderCats. 
Free GiftEdit
A ThunderCats mini-poster, which was originally the cover artwork for ThunderCats (Marvel UK) - Issue 11
Notes of InterestEdit
Community content is available under
CC-BY-SA
unless otherwise noted.