ThunderCats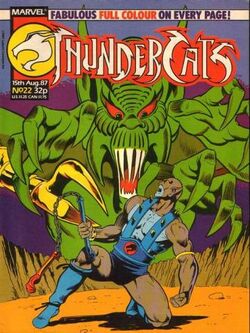 ThunderCats # 22 was an on-going comic book by Marvel Comics UK, which was based upon the original cartoon series of the ThunderCats.
Immortal Dreads, part 2 of 2:
Written by Gerry Conway
Art by Jose Delbo, Al Gordon, Janice Chiang & Petra Scotese
Free GiftEdit
A ThunderCats mini-poster, which was originally the cover artwork for ThunderCats (Marvel UK) - Issue 15
Notes of interestEdit
This issue contains reprinted panels from ThunderCats (Star Comics) # 10, which was originally called 'Graveyard of Memories!'
In the United States (US) and Canada, the price of this comic was increased by 25 cents.
Community content is available under
CC-BY-SA
unless otherwise noted.