ThunderCats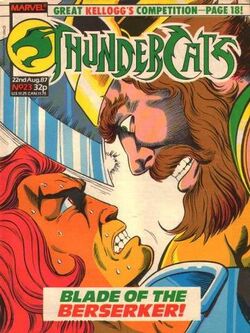 ThunderCats # 23 was an on-going comic book by Marvel Comics UK, which was based upon the original cartoon series of the ThunderCats.
Berzerker Rage, part 1 of 2:
Written by Gerry Conway
Art by Jose Delbo, Al Gordon, Janice Chiang & Petra Scotese
The ThunderCats go to the aid of the peaceable fisherfolk, the Nai, who are being terrorised by the Berserkers. Led by Horak the Axe-Wielder, their captain, the pirates captured the Nai and made them their slaves. Drella, a bubbly-haired member of the tribe, managed to escape and came asking the ThunderCats for their help. Lion-O wants to go rushing to their aid, although Cheetara seems less than happy, accusing Lion-O of being swayed by Drella's beauty rather than using his head before involving the ThunderCats in this war. Lion-O keeps his word, however, and before long, the ThunderCats are battling the Berserkers at the Nai village. Meanwhile, Lion-O and Drella attempt to cut the pirates' ships loose, only to be attacked. In the fight, he loses the Sword of Omens and asks Drella to retrieve it for him. She says she can't, because being peaceful folk, she could never use a weapon. Back at the village, things are starting to go wrong and they wonder what's become of Lion-O. Still locked in his struggle with the pirate, he manages to break free at last, finally realising that Drella's unwillingness to fight is why she involved the ThunderCats in this battle.
Free GiftEdit
A ThunderCats mini-poster, which was originally the cover artwork for ThunderCats (Marvel UK) - Issue 16
Notes of interestEdit
Community content is available under
CC-BY-SA
unless otherwise noted.