ThunderCats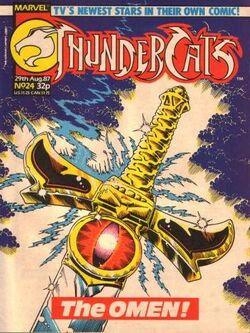 ThunderCats # 24 was an on-going comic book by Marvel Comics UK, which was based upon the original cartoon series of the ThunderCats.
Berzerker Rage, part 2 of 2:
Written by Gerry Conway
Art by Jose Delbo, Al Gordon, Janice Chiang & Petra Scotese
Seeing their ships floating away, the pirates hurry away from the village to retrieve them, although the ThunderCats know that soon they will be back. While the Nai celebrate, Lion-O wonders what he is to do if the Nai won't help themselves. Jaga appears and reminds him that the strong must help the weak even if they won't protect themselves. The Berserkers return, this time intent on destroying the village and the ThunderCats face them alone. Vastly outnumbered, the ThunderCats realise they don't stand a chance, until suddenly the Nai have a change of heart and rush to join the battle. Lion-O takes on Horak in single combat, only to lose the Sword of Omens again. This time, Drella throws it back to him and he defeats Horak. The pirates leave, perhaps for good now the Nai have shown that they are capable of defending themselves.
Free GiftEdit
A ThunderCats mini-poster, which was originally the cover artwork for ThunderCats (Marvel UK) - Issue 1
Notes of interestEdit
Community content is available under
CC-BY-SA
unless otherwise noted.