ThunderCats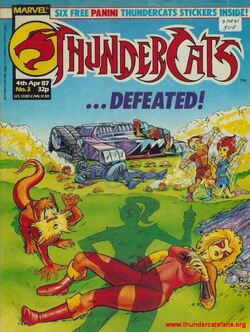 ThunderCats # 3 was an on-going comic book by Marvel Comics UK, which was based upon the original cartoon series of the ThunderCats.
Jaga Quest, part 1 of 2:
Written by David Micheline
Art by Jim Mooney, Breeding Morgan & Nelson Yomtov
Despite the fact that only Lion-O can see Jaga's spirit form, all the 'Cats rush off to see if they can find any clues as to what happened to him. While searching the jungle, 'Jaga' appears to Lion-O and tells him a temporary disturbance in the Astral Plane caused him to temporally disappear. Relived, Lion-O goes back and informs the other ThunderCats.
On their way back to the Lair however, the ThunderCats fall into various traps and are taken captive by a mysterious stranger. When too much time passes, Lion-O signals the others with the Sword with no results. Worried, he bounds off to find his friends. Following an unfamiliar cat scent leads him to some ruins. When the sword sounds a warning, 'Jaga' appears again and tells Lion-O the same disturbance in the Astral Plane caused the judgment aura in the Eye and to ignore the warning. Believing him, Lion-O soldiers on only to walk right into the same stranger's trap.
The stranger, of course, is Lynxana, former Thundercat turned bounty hunter. Lion-O breaks free and fights with Lynxana. When she mentions that she's glad old Jaga will witness Lion-O's fall, he realizes that it can't be the real Jaga, confirming this with the Sword's second sight powers. His cover blown, Mumm-Ra shows himself and fights. Meanwhile, Lynxana concludes that nobody should fall to something so evil as Mumm-Ra and actually helps Lion-O. With Mumm-Ra defeated, they form a truce in an effort to free the others and find Jaga.
Notes of InterestEdit
Free GiftEdit
Six free stickers for the Panini ThunderCats album
Preview GalleryEdit
Community content is available under
CC-BY-SA
unless otherwise noted.