ThunderCats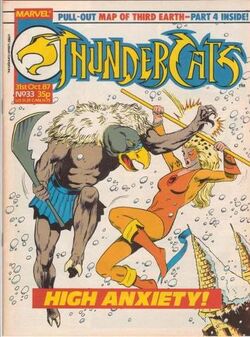 ThunderCats # 33 was an on-going comic book by Marvel Comics UK, which was based upon the original cartoon series of the ThunderCats.
World in Chaos, 4 of 6:
Written by Simon Furman and Ian Rimmer
Art by Phil Gascoine, Stephen Baskerville, Annie H & Euan Peters
Cheetara dukes it out with Vultureman, 80ft above Hook Mountain, while Tygra manages to escape the Vortex. However, he ends up on the beach of the crabmen and must contend with them. Cheetara has her own issues with the snowmen, who want to hurt the defeated Vultureman, but she won't allow the brutality. They sort out their differences in time for all of them to show up to save Tygra.
Free GiftEdit
A pull-out map of Third Earth - Part 4
Notes of interestEdit
Contains a fact file about Slith
Community content is available under
CC-BY-SA
unless otherwise noted.