ThunderCats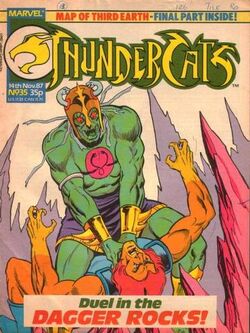 ThunderCats # 35 was an on-going comic book by Marvel Comics UK, which was based upon the original cartoon series of the ThunderCats.
World in Chaos, part 6 of 6:
Written by Simon Furman and Ian Rimmer
Art By Phil Gascoine, Dave Harwood, Annie H & Stuart Place
Lion-O is losing his fight with Mumm-Ra and urges Slithe to hand over the Sword. Instead of giving it to Lion-O, Slithe simply runs away, leaving the Sword behind. WilyKit is too dazed to help, but luckily WilyKit shows up to help. They soon discover the big Mumm-Ra was an elaborate fake and set off to find the real Mumm-Ra hoping he is still weak.
WilyKit reminds Lion-O that they have to finish their map before sun down or Third Earth is no more. But Lion-O seeks Mumm-Ra anyway, finally finding him in the field of daggers. He comes to his senses in time to let Mumm-Ra get away in favor of finishing the map, which they do just in time. Jaga is charged with guarding the map forevermore.
Free GiftEdit
A pull-out map of Third Earth - Part 6
Notes of interestEdit
Community content is available under
CC-BY-SA
unless otherwise noted.