ThunderCats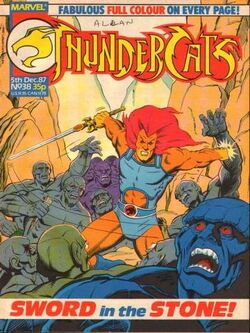 ThunderCats # 38 was an on-going comic book by Marvel Comics UK, which was based upon the original cartoon series of the ThunderCats.
The Time Capsule, part 2 of 2:
Written by Tom DeFalco
Art by Jose Delbo, Dave Simons, Diana Albers & Marie Severin
Free GiftEdit
A ThunderCats mini-poster, which was originally the cover artwork for ThunderCats (Marvel UK) - Issue 20
Notes of interestEdit
This issue contains reprinted panels from ThunderCats (Star Comics) # 15
Similar to the previous issue, this comic is loosely based on the original episode called The Time Capsule by Peter Lawrence, except this it has an alternative ending. Unlike the televised episode, Here, the Thundercats let the cavemen keep the capsule as its crystal made food grow and they figured the cavemen needed it more than they did.
Community content is available under
CC-BY-SA
unless otherwise noted.