ThunderCats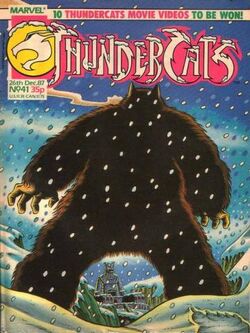 ThunderCats # 41 was an on-going comic book by Marvel Comics UK, which was based upon the original cartoon series of the ThunderCats.
Footprints:
Written by Steve Alan and Ian Rimmer
Art by Dougie Braithwaite, Martin Griffiths, Glib and Stuart Place
In a time when people celebrated Harkening and Third Earth was liberated from Mumm-Ra's rule for the first-time, there was a creature called Rammastide. It roamed the land and terrorised the people of Third Earth. When it comes and visit the Cats Lair however, they soon realise he is not attacking but hugging it. It seems the Lair resembles the creature, who has been nursing a broken heart over the loss of his mate.
Free GiftEdit
Notes of InterestEdit
Preview GalleryEdit
Community content is available under
CC-BY-SA
unless otherwise noted.