ThunderCats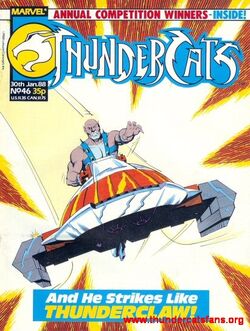 ThunderCats # 46 was an ongoing comic series by Marvel UK, which was based upon the original ThunderCats cartoon.
ThunderClaw:
Written by Ian Rimmer
Art by Martin Griffiths, Tim Perkins, Glib & Euan Peters
Panthro builds a ship called the Thunderclaw and goes to retrieve the ThunderTank with Lion-O, which had gotten stuck in a previous adventure. While hooking up the ThunderTank however, Slithe ambushes them. Panthro is taken prisoner, but Lion-O gives chase in the 'Claw - with the Tank attached. However, he's not skilled on the machine and doesn't fly it so well. Lion-o has to land and loses the Mutants. He uses the Sword of Omens to find the Mutant campsite on the banks of the river. He rescues Panthro using his own skills and learns the lesson that one cannot always rely on machines and technology.
Due to inconsistencies with the original animated series, comics by Marvel UK are not considered canon.
A ThunderCats mini-poster, which was originally the cover artwork for ThunderCats # 29.
Community content is available under
CC-BY-SA
unless otherwise noted.