ThunderCats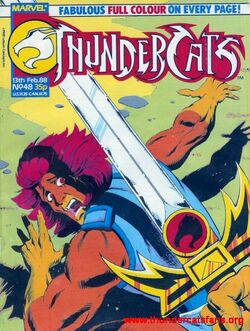 ThunderCats # 48 was an on-going comic book by Marvel Comics UK, which was based upon the original cartoon series of the ThunderCats.
Rampage, part 2 of 2:
Written by Ian Rimmer
Art by Geoff Senior, Dave Hine, Gordon Robson & Stuart Place
The warrior maidens find and capture Tygra, and Willa wants to execute him to spare him and everyone else the possibility of getting the disease. However, Tessa convinces her that the ThunderCats have to decide the fate of their friend. Lion-O takes Tygra to the forest of silence and keeps him there, tied to a tree. However, since there are creatures in the forest who would hurt the vulnerable Tygra, Lion-O must stay and endure the silence. It nearly drives him mad. Tygra eventually is cured and Lion-O manages to narrowly escape with his own sanity intact.
Free GiftEdit
Notes of InterestEdit
Community content is available under
CC-BY-SA
unless otherwise noted.