ThunderCats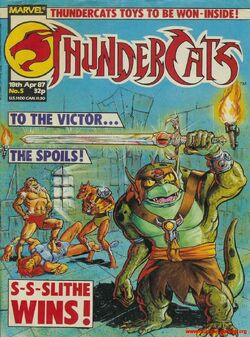 ThunderCats # 5 was an on-going comic book by Marvel Comics UK, which was based upon the original cartoon series of the ThunderCats.
To Plunder Castle Plun-Darr, part 1 of 2:
Written by David Micheline
Art by Jim Mooney, Breeding Morgan & Petra Scotese
Jaga is still missing and Mumm-Ra is suspected of foul play. Lion-O and the ThunderCat bounty hunter known as Lynxana, infiltrate Slithe's domain in order to prevent the imminent execution of their fellow Thundercat. They succeed in freeing Panthro and Tygra, but now have to overcome Slithe's Mutant Horde before they can free Cheetara, WilyKat, WilyKat and Snarf. They've tackled the Mutants on previous occasions, but this time they are fighting on the Mutants' home ground (Castle Plundarr) and a super-powerful Mumm-Ra!
Continued in the next issue...
Notes of InterestEdit
Preview GalleryEdit
Community content is available under
CC-BY-SA
unless otherwise noted.