ThunderCats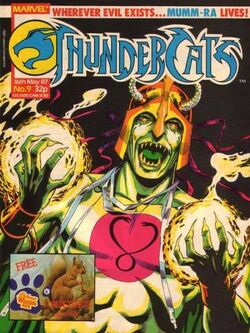 ThunderCats # 9 was an on-going comic book by Marvel Comics UK, which was based upon the original cartoon series of the ThunderCats.
Walking Nightmares, part 2 of 2:
Written by Simon Furman
Art by Steve Yeowell, Baskerville, Stalking & Gilbert
Lion-O has nightmares of a creature that attacks his friends and he is unable to help them. He wakes from his dreams, shaken and tired, and unsure whether he should tell the other ThunderCats. These events are watched by Mumm-Ra, who goes to the Mutants and tells them of his plan to destroy the ThunderCats. Dawn, the next day, Lion-O is still sleeping while the others fend off a Mutant assault on the Lair. Still in the grip of his dream, Lion-O hears their cries as they are overwhelmed and he wakes up to find that he is 10-years-old again.
Community content is available under
CC-BY-SA
unless otherwise noted.