Doomgaze and Terror of Hammerhand & Spaceship Beneath the Sands and Lord of the Snows VHS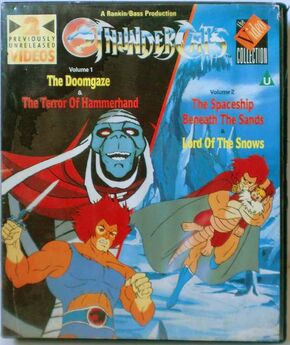 Volume 1: In these two incredible episodes, the ThunderCats meet and battle against the forces of evil.
The Doomgaze - Mumm-Ra allies with the Egyptian princess Ta-She to gain the Doomgaze, an entrancing power which could enslave the ThunderCats. To free her from the Time Warp Prison, they need three elements: a tuft of Cheetara's hair, a Unicorn's golden shoe, and a Berbil's tear. The Mutants aided by a Man-O-War Cloud, gather the elements and kidnap Ro-Ber-Belle.
The Terror Of Hammerhand - Is nothing safe from the awesome forces of darkness? In a forest where goodness prevails, a young unicorn is captured by the villainous Hammerhand, and his band of followers, the Berserkers. Can Lion-O, Lord of the ThunderCats outwit the Berserkers and crush the tyrannical rule of Hammerhand?
Volume 2: Is there no peace for the ThunderCats, forever being drawn into battle to rid the world of evil.
The Spaceship Beneath The Sands - From beneath the Desert of Sinking Sands, the treacherous Mumm-Ra unearths the Mutant's buried spacecraft. The vile low-life Mutants, armed with their fabulous super-weapons, prepare to fight the ThunderCats. Lion-O and Panthro in a desperate effort to conquer their insidious adversaries, pursue them, into the dark, unfathomable depths of the sea.
Lord of the Snows - The ThunderCats track a falling meteor of Thundrillium, their power source, to Hook Mountain. Snowman, the cold-hearted ruler of this icy wasteland and his giant cat Snowmeow are guarding it jealously. Lion-O and Snarf offer friendship in exchange for the meteor, but when their offer is refused, a battle begins. Close at hand lurk the evil Mutants with their villainous colleague Vultureman, who are plotting to steal the meteor for themselves.
This VHS contained the following episode: Tape 1:
Tape 2:
Community content is available under
CC-BY-SA
unless otherwise noted.