Thundercats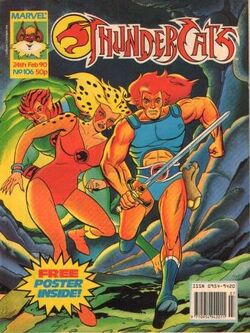 Thundercats # 106 is a comic book released by Marvel UK and is based on the original cartoon series.
Flight of the Netherwitch, part 2 of 2:
Written by Steve Alan
Enermy Below, part 2 of 2:
Written by James Hill
Thanks to Snarf, Lion-O is able to use the Sword of Omens and releases he fighting an illusion of the evil Mumm-Ra. However, there's the issue of the others and it is the Eye of Thundera shining the light of truth that reveals the true dangers behind the other illusions - illusions designed to take advantage of each 'Cats weakness (Cheetara - confined spaces, Panthro - pride, Tygra - vanity). Though they all overcome their struggles and escape just in time, their assault on the Pyramid was a failed one.
Free GiftEdit
A ThunderCats mini-poster, which is an enlarged reproduction of the front cover.  
Notes of InterestEdit
Community content is available under
CC-BY-SA
unless otherwise noted.