Thundercats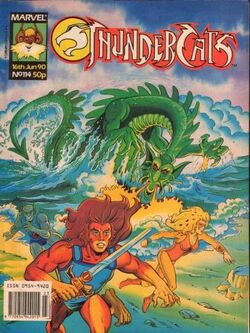 Thundercats # 115 is a comic book released by Marvel UK and is based on the original cartoon series.
Bad Playmates, part 3 of 4:
Written by James Rose
After an eventful party with the Nai people, the Thundercats return to Cats' Lair to be welcomed by WilyKit and WilyKat. Yet there is something suspicious about these Thunderkittens as Snarf soon finds out, not least because they have blue eyes. These 'Thunderdecoys' say that the Thundercats must pay a ransom in return for the lives of the Thunderkittens or else they will perish. Lion-O faces a dilemma and searches for an answer. Meanwhile, the Thunderkittens are being held by the Mutants. Lion-O and Panthro appear with the ransom, while Cheetara hides in a tree, ready to spring her trap to free WilyKit and WilyKat.
Invasion, part 1 of 2:
Written by Ian Rimmer
This issue introduces the Berzerkers, who with the help of Slithe, devise a way to ambush and capture all the Thundercats. Now, Slithe has the Sword of Omens and the Berzerkers are free to take over Third Earth. However, Lion-O has a yet-to-be-seen trick up his sleeve in the form of a mysterious invention he brought along with him.
Free GiftEdit
A ThunderCats poster, which is an enlarged reproduction of the front cover.  
Notes of InterestEdit
Community content is available under
CC-BY-SA
unless otherwise noted.